Title:

Fantasy in Death (In Death Series #30)
Author:

J. D. Robb
Synopsis:
In the latest novel from #1 New York Times-bestselling author J.D. Robb, it is game over for the criminals pursued by NYPSD Lieutenant Eve Dallas. Bart Minnock, founder of the computer-gaming giant U-Play, enters his private playroom, and eagerly can't wait to lose himself in an imaginary world, to play the role of a sword-wielding warrior king, in his company's latest top-secret project, Fantastical. The next morning, he is found in the same locked room, in a pool of blood, his head separated from his body. It is the most puzzling case Eve Dallas has ever faced, and it is not a game. . . . NYPSD Lieutenant Eve Dallas is having as much trouble figuring out how Bart Minnock was murdered as who did the murdering. The victim's girlfriend seems sincerely grief-stricken, and his quirky-but-brilliant partners at U-Play appear equally shocked. No one seemed to have a prob¡lem with the enthusiastic, high-spirited millionaire. Of course, success can attract jealousy, and gaming, like any business, has its fierce rivalries and dirty tricks-as Eve's husband, Roarke, one of U- Play's competitors, knows well. But Minnock was not naive, and quite capable of fighting back in the real world as well as the virtual one. Eve and her team are about to enter the next level of police work, in a world where fantasy is the ultimate seduction-and the price of defeat is death. . . .
Publishers Weekly
Lt. Eve Dallas, a top homicide cop for the New York Police and Security Department (the law enforcement agency for a mid 21st-century New York City), faces one of the more challenging cases of her career in bestseller Robb's exciting 31st "in death" novel (after Kindred in Death). When someone cuts off the head of Bart Minnock, the genius founder of the computer gaming company U-Play, apparently while he was role-playing against an imaginary opponent in a prototype of a fantasy adventure that could rock the industry, Eve investigates. Security logs show no one entered Minnock's building around the time of his murder, presenting a futuristic variation on the classic locked-room mystery. Aided by her husband, Roarke, who was a potential business rival of the victim, Dallas focuses on who would benefit from Minnock's death. Robb is the pseudonym of romantic suspense author Nora Roberts. (Feb.)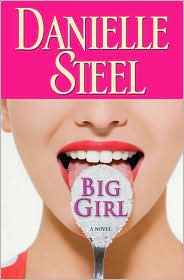 Title:

Big Girl
Author:

Danielle Steel
Synopsis:
In this heartfelt and incisive new novel, Danielle Steel celebrates the virtues of unconventional beauty while exploring deeply resonant issues of weight, self-image, sisterhood, and family.
A chubby little girl with blond hair, blue eyes, and ordinary looks, Victoria Dawson has always felt out of place in her family, especially in body-conscious L.A. Her father, Jim, is tall and slender, and her mother, Christina, is a fine-boned, dark-haired beauty. Both are self-centered, outspoken, and disappointed by their daughter's looks. When Victoria is six, she sees a photograph of Queen Victoria, and her father has always said she looks just like her. After the birth of Victoria's perfect younger sister, Gracie, her father liked to refer to his firstborn as "our tester cake." With Gracie, everyone agreed that Jim and Christina got it right.
While her parents and sister can eat anything and not gain an ounce, Victoria must watch everything she eats, as well as endure her father's belittling comments about her body and see her academic achievements go unacknowledged. Ice cream and oversized helpings of all the wrong foods give her comfort, but only briefly. The one thing she knows is that she has to get away from home, and after college in Chicago, she moves to New York City.
Landing her dream job as a high school teacher, Victoria loves working with her students and wages war on her weight at the gym. Despite tension with her parents, Victoria remains close to her sister. And though they couldn't be more different in looks, they love each other unconditionally. But regardless of heraccomplishments, Victoria's parents know just what to say to bring her down. She will always be her father's "big girl," and her mother's constant disapproval is equally unkind.
When Grace announces her engagement to a man who is an exact replica of their narcissistic father, Victoria worries about her sister's future happiness, and with no man of her own, she feels like a failure once again. As the wedding draws near, a chance encounter, an act of stunning betrayal, and a family confrontation lead to a turning point.
Behind Victoria is a lifetime of hurt and neglect she has tried to forget, and even ice cream can no longer dull the pain. Ahead is a challenge and a risk: to accept herself as she is, celebrate it, and claim the victories she has fought so hard for and deserves. Big girl or not, she is terrific and discovers that herself.
Publishers Weekly
Household name Steel (Going Home) falls short of her best in her latest. Victoria Dawson has always felt like an outcast. When her little sister Grace is born, father Jim tells Victoria she was the "tester cake," and they finally got it right with the beautiful Gracie. Victoria grows up in her sister's shadow, and though she loves Gracie dearly, she's anxious to leave home. The pain doesn't stop there, though. Her father calls her first job at a prestigious private school in Manhattan "pathetic," and Victoria begins a battle with her weight and her belief that she is unlovable (even though men pursue her). The premise of the story is sound, but it doesn't ring true: the parents are two-dimensional, cruel monsters and Victoria seems to have everything: fantastic job, amazing apartment, perfect best friends. It's hard to believe that her parents would still wield such power. Steel barely grazes the surface of an important topic, but it's not reality that has positioned her at the top of bestseller lists. (Mar.)
Title:

Split Image (Jesse Stone Series #9)
Author:

Robert B. Parker
Synopsis:
Family ties prove deadly in the brilliant new Jesse Stone novel from New York Times-bestselling author Robert B. Parker.
The body in the trunk was just the beginning.
Turns out the stiff was a foot soldier for local tough guy Reggie Galen, now enjoying a comfortable "retirement" with his beauti­ful wife, Rebecca, in the nicest part of Paradise. Living next door are Knocko Moynihan and his wife, Robbie, who also happens to be Rebecca's twin. But what initially appears to be a low-level mob hit takes on new meaning when a high-ranking crime figure is found dead on Paradise Beach.
Stressed by the case, his failed relationship with his ex-wife, and his ongoing battle with the bottle, Jesse needs something to keep him from spinning out of control. When private investigator Sunny Randall comes into town on a case, she asks for Jesse's help. As their professional and personal relationships become intertwined, both Jesse and Sunny realize that they have much in common with both their victims and their suspects-and with each other.
Publishers Weekly
Bestseller Parker's enjoyable ninth novel featuring Paradise, Mass., police chief Jesse Stone (after Night and Day), focuses on Stone's deepening connection with PI Sunny Randall, the star of her own series (Spare Change, etc.). Both Jesse and Sunny are still recovering from failed relationships, and Parker does a nice job of integrating their separate therapy sessions (in Sunny's case, with Susan Silverman, the significant other of Parker's best-known detective, Spenser) with two criminal investigations. The parents of 18-year-old Cheryl DeMarco ask Sunny for help in getting Cheryl out of a religious cult, while Stone probes the gunshot murder of Petrov Ognowski, a mob soldier whose boss, Reggie Galen, is the next-door neighbor of another gangster. Neither case is particularly compelling on its own, but they effectively serve as plot devices for the main characters to understand more about themselves and each other. (Feb.)
Title:

Apple Turnover Murder (Hannah Swensen Series #13)
Author:

Joanne Fluke
Synopsis:
It's June in Lake Eden, Minnesota, and for Hannah Swensen, that means bridal showers galore, plus a massive fundraising event in need of confections—not to mention a killer who never learned that charity begins at home...
Early summer brings plenty of work for Hannah, even before Mayor Bascomb's wife drops by The Cookie Jar to place an order ...for eleven-hundred cookies! Stephanie Bascomb is organizing an elaborate three-day event to support local charities, and though it's a worthy cause, Hannah almost flips when her business partner, Lisa, suggests setting up an apple turnover stand. Hannah's never made a turnover—but, pushover that she is, she places her faith in Lisa's mother-in-law's recipe and agrees to be a magician's assistant in the fundraiser's talent show...
Dozens of pastries and one hideous purple dress later, Hannah has to admit that stepping out of her comfort zone has been fun as well as profitable. The only snag is the show's host, community college professor Bradford Ramsey. Hannah and her younger sister Michelle each had unfortunate romantic relationships with Ramsey, and when the cad comes sniffing around between acts, Hannah tells him off. But when the curtain doesn't go up, she discovers Ramsey backstage—dead as a doornail with a turnover in his hand...
Now, to protect her reputation and Michelle's, Hannah must get to the bottom of the professor's bitter end. There are plenty of scorned suspects, including an ex-wife who feels cheated in more ways than one, and a prominent local who may have been using Ramsey to avenge her own randy spouse. But who was unstable enough to snuff out Professor Love? A killer who's flakier than puffpastry—and far more dangerous...
Includes Over Ten Cookie and Dessert Recipes!

Publishers Weekly
Cozy fans will welcome bestseller Fluke's charming 13th Hannah Swensen mystery (after 2009's Plum Pudding Murder). Hannah is working long hours at her bakery, the Cookie Jar, in Lake Eden, Minn., as well as dating two men, dentist Norman Rhodes and local sheriff Mike Kingston. Her personal life gets more complicated with the reappearance of Bradford Ramsey, a college professor with whom Hannah had a brief fling when she was a naïve graduate student. Hannah hopes ladies' man Bradford has forgotten the embarrassing episode. When Hannah winds up serving as a magician's assistant for a charity show, she has the misfortune to find Bradford, the show's host, backstage "stone cold dead." With her usual wit and flair, amateur sleuth Hannah narrows down the list of suspects in Bradford's murder, but can she catch the culprit before she becomes the next victim? Scrumptious recipes include mocha nut butterballs and chocolate marshmallow cookie bars. Author tour. (Mar.)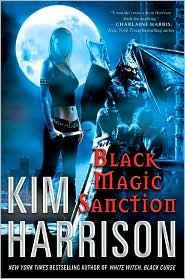 Title:

Black Magic Sanction (Rachel Morgan Series #8)
Author:

Kim Harrison
Synopsis:
In New York Times bestselling author Kim Harrison's most complex and nuanced adventure yet, bounty hunter and witch Rachel Morgan fights a deadly battle—mind, body, and soul
Black Magic Sanction
Rachel Morgan has fought and hunted vampires, werewolves, banshees, demons, and other supernatural dangers as both witch and bounty hunter—and lived to tell the tale. But she's never faced off against her own kind . . . until now. Denounced and shunned for dealing with demons and black magic, her best hope is life imprisonment—at worst, a forced lobotomy and genetic slavery. Only her enemies are strong enough to help her win her freedom, but trust comes hard when it hinges on the unscrupulous tycoon Trent Kalamack, the demon Algaliarept, and an ex-boyfriend turned thief.
It takes a witch to catch a witch, but survival bears a heavy price.

Publishers Weekly
The eighth bewitching but overly dense Hollows adventure (after 2009's White Witch, Black Curse) updates the travails of Rachel Morgan, delectable magical jack of all trades. Having recently learned that Rachel is a witch-born demon whose children would be demons, a white magic coven is shunning her and accusing her of black magic. They offer her a terrible choice: sterilization or imprisonment in Alcatraz. Trent Kalamack, drug lord and elf in hiding, offers to get the coven off her back, but her double-crossing "ex-rat ex-boyfriend," Nick, shows up and lands her in more hot water. As Rachel battles those she thought were on her side, her survival depends on a paranormal cornucopia of elves, demons, vampires, gargoyles, pixies, and even a leprechaun. This thrill ride celebrates the can-do spirit of one of urban fantasy's most charming witches. (Mar.)
Source: Barnes & Noble