CNN
recommends eight films about football.
Title:
Looking for Eric
Directed by
Ken Loach
Plot:
The plot revolves around a football fanatic postman (Evets) whose life is descending into crisis. Looking after his granddaughter is bringing him into contact with his ex-wife, and his stepson is hoarding a gun for a local gangster. At his weakest moments, when he considers suicide, his hallucinations bring forth visits from his footballing hero, the famously philosophical Eric Cantona.
Eric the postman is slipping through his own fingers... His wife has gone, his stepsons are out of control and the house was chaotic even before a cement mixer appeared in the front garden. Life is crazy enough, but it is Eric's own secret that is driving him to the brink. How can he face up to Lily, the woman of his dreams that he once loved and walked out on many years ago? Despite the comical efforts and misplaced goodwill of his mates, Eric continues to sink. In desperate times it takes a spliff and a special friend to help a lost postman find his way, so Eric turns to his hero: footballing genius, philosopher and poster boy, Eric Cantona. As a certain Frenchman says "He who is afraid to throw the dice, will never throw a six." The lead actors are Steve Evets and Eric Cantona, with Stephanie Bishop, Gerard Kearns and John Henshaw. It was shot entirely on location in Manchester.
Source:
http://www.imdb.com/title/tt1242545/synopsis
Title:
Rudo y Cursi
Directed by
Carlos Cuarón
Plot:
The movie is a drama/comedy about two brothers from a rural lower class Mexican family with roots in a little "banana town" on the coast of Mexico, and fighting over who performs better in professional soccer. It is also a satire on contemporary Mexico's "narco-society" perceptions of life and values.
Source: http://en.wikipedia.org/wiki/Rudo_y_Cursi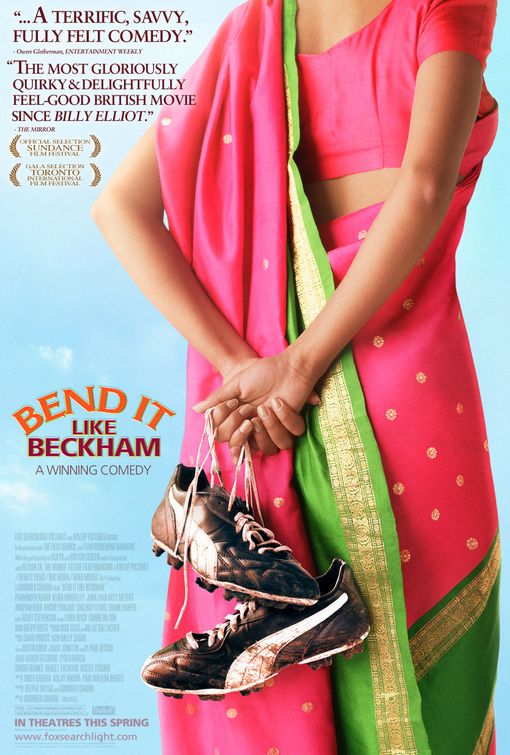 Title:
Bend It Like Beckham
Directed by
Gurinder Chadha
Plot:
What if you were a teenage girl who is more interested in playing soccer than learning to cook and finding a husband, over the objections of your traditional Indian family? This gentle and heartwarming story asks just that. The movie is set in multicultural London and is a wonderful example of how to smile at our cultural differences, without undermining others ideas. Bend It Like Beckham looks at the borderless story of a young person with a dream that conflicts with the expectations of her family and her community. Chadha manages to tell this warm story with a light touch that keeps the drama without losing the humour. This is managed by having a cast of uniformly superb actors with well-developed, natural characters to work with. A surprise hit upon its release, this is sure to be a pleasant surprise for those that missed it. It will hold your attention and give you a laugh and a smile.
Source: http://www.imdb.com/title/tt0286499/synopsis
If you want to know about the rest 5 football movies selected by CNN, click
here
.