Title: Eva's Kitchen
Authors: Eva Longoria and Marah Stets
Synopsis:
Eva Longoria may be most recognized for her role as
Desperate Housewives'
saucy Gabrielle Solis, but on her own time, there are few places she would rather be than in the kitchen, cooking the food she loves for her family and friends. Here is the food Eva loves to eat, and the recipes in Eva's Kitchen trace her life story, taking readers on her culinary journey—from the food she was brought up on to the recipes inspired by her travels abroad to the dishes she serves during casual nights at home.
Having grown up on a ranch with every meal based on what was in the family fields, Eva believes, like so many of us, that good cooking relies on local, fresh, easy-to-find ingredients. In Eva's Kitchen, she teaches readers essential cooking skills and she sprinkles in the histories and traditions behind her favorite dishes, including personal stories and anecdotes that capture the warmth, humor, and joy of her most memorable meals.
In her first cookbook, Eva welcomes you into her kitchen, offering 100 of her favorite dishes—many of which are family recipes collected over the years—all fused with her passion for cooking. She also shares memories of her Texas ranch upbringing, her very first cooking adventures, vacations overseas, nights in with her girlfriends, and last-minute pre–red carpet meals.
Inspired by her heritage, Eva highlights the essentials of great Mexican cooking, Texas style—with her family's recipes and techniques for making the world's best tamales, homemade tortillas, Spanish rice, and Pan de Polvo (Mexican pastry), to name a few. She also offers dishes from a variety of international cuisines, from Latin American to Italian and French, inspired by her globe-trotting travels. A taste of Lemon Dover Sole whisks Eva to a tiny hotel-restaurant she once visited on a trip to Normandy; the recipe for Cannellini Beans with Crushed Red Pepper was a souvenir from a trip to Florence; kimchi adds a kick to her Spicy Roasted Brussels Sprouts, a Thanksgiving staple; and Yellow Squash Soup with Lemon brings her full circle, back to her family's vegetable garden in Corpus Christi.
With full-color food photographs, intimate portraits of her family and friends, and a glimpse into Eva's home and her lesser-known domestic side (family first, acting second, she says), Eva's debut cookbook will entice her loyal fans and inspire home cooks to broaden their culinary horizons and create memorable meals for the people they love.
Title: The Deen Bros. Get Fired Up
Authors: Jamie Deen, Bobby Deen and Melissa Clark
Synopsis:
Hungry for the great outdoors? Jamie and Bobby Deen know just what to make—whether it's in your own backyard, on the beach, at a potluck picnic, or tailgating before the big game. In
The Deen Bros. Get Fired Up
, Paula Deen's sons share a new batch of more than 125 mouthwatering recipes and entertaining ideas to make your outdoor dining a breeze.
Jamie and Bobby have always preferred eating at a picnic table to a dining room. For the guys, backyard grilling means more good eats and less mess, tailgating is all about friendship and fun, and a beach picnic is a chance to splash around in the sun between courses. Now the brothers are sharing their outdoor cooking know-how to help you wow your friends and family with everything from grilled meats and barbecue to sandwiches, pizzas, and smoky sides. This irresistible cookbook also offers up delicious nibbles, tasty salads, and refreshing Seaside Sippers. Featuring ingredients easily found at your local supermarket, these effortless dishes are made even more special with the Deen brothers' signature Southern flare.
Fire up the grill for some Beer Can Chicken with Sweet and Spicy Pickled Vidalia Onions, Big Fat Garlicky Rib Eye, and Down-Home Baby Back Ribs. Whip up Hot Buffalo Burgers with Blue Cheese or Nutty Pimiento Cheese Balls in the parking lot before the game. Spread out the picnic blanket for some Red-Hot Mayo and Tomato Sandwiches, NOLA-Style Dirty Rice Salad, or Southern Biscuit Cheese Straws. Hit the beach with Glazed Barbecue Shrimp, Grilled Crab Cake Sammies, or Fire-Roasted Clams and Mussels. Then wash it all down with such lip-lickin' concoctions as Pomegranate Punch, Cucumber Sangria, or a Savannah Sea Breeze. Jamie and Bobby also throw in something sweet with their Grilled Buttery Pound Cake and More and More S'mores.
Packed with gorgeous photographs of the whole family at work (cooking!) and at play, The Deen Bros. Get Fired Up is a celebration of the beautiful landscapes, the wonderful people, and the great meals we can all share together.
Title: Super Natural Every Day
Author: Heidi Swanson
Synopsis:
HEIDI SWANSON'S approach to cooking whole, natural foods has earned her a global readership. From her Northern California kitchen, she introduced us to a less-processed world of cooking and eating through her award-winning blog, 101 Cookbooks, and in her James Beard Award–nominated cookbook,
Super Natural Cooking
, she taught us how to expand our pantries and integrate nutrient-rich superfoods into our diets.
In Super Natural Every Day, Heidi helps us make nutritionally packed meals part of our daily repertoire by sharing a sumptuous collection of nearly 100 of her go-to recipes. These are the dishes that Heidi returns to again and again because they're approachable, good for the body, and just plain delicious. This stylish cookbook is equal parts inspiration and instruction, showing us how to create a welcoming table filled with nourishing food for friends and family.
The seductively flavorful vegetarian recipes for breakfast, lunch, dinner, snacks, treats, and drinks are quick to the table but tasty enough to linger over. Grab a Millet Muffin or some flaky Yogurt Biscuits for breakfast on the go, or settle into a lazy Sunday morning with a stack of Multi-grain Pancakes and a steaming cup of Ginger Tea. A bowl of Summer Squash Soup or a couple of Chanterelle Tacos make for a light and healthy lunch, and for dinner, there's Black Sesame Otsu, Pomegranate-Glazed Eggplant with Tempeh, or the aptly named Weeknight Curry. Heidi's Rose Geranium Prosecco is the perfect start to a celebratory meal, and the Buttermilk Cake with fresh plums or Sweet Panzanella will satisfy even the most stubborn sweet tooth.
Gorgeously illustrated with over 100 photos that showcase the engaging rhythms of Heidi's culinary life and travels, Super Natural Every Day reveals the beauty of uncomplicated food prepared well and reflects a realistic yet gourmet approach to a healthy and sophisticated natural foods lifestyle.
Title: Sara Foster's Southern Kitchen
Author: Sara Foster
Synopsis:
Sara Foster's love of Southern fare began in her Granny Foster's Tennessee kitchen. There, the combination of down-home comfort, fresh-from-the-farm ingredients, and dedicated preparation hooked her for life. Now the award-winning cookbook author and restaurateur serves up nearly two hundred contemporary interpretations of classic dishes—Shrimp Jambalaya, Slow-Roasted Pulled Pork Butt, Cheesy Grits Casserole; refreshing drinks, including Mint Juleps and Sweet Tea; and such satisfying breakfasts as Country Ham and Hominy Hash. And a table wouldn't be Southern without the sides—Skillet-Fried Corn, Creamy Potato Salad, and Arugula Pesto Snap Beans. Be sure, too, to save room for Molasses-Bourbon Pecan Pie and Freestyle Lemon Blackberry Tart.
From revealing the secret to fluffy buttermilk biscuits to giving us ideas for swapping out ingredients to accommodate any season, from providing tips for frying up chicken like a true Southerner to detailing barbecue fundamentals that put you on par with any pitmaster, Foster's helpful sidebars ensure that your dishes will turn out perfect every time. You'll also get expert tips on the essential equipment (cast-iron skillets, griddles, casserole dishes) and the ingredients no Southern pantry should be without (from stone-ground grits to Carolina Gold rice). As a bonus, Foster offers her "Sidetracked" feature, profiles of tried-and-true roadtrip destinations throughout the South where you can find the best fried catfish, barbecued brisket, big breakfast plates, and more. And finally, Foster's lessons in pickling and canning guarantee that you can enjoy your favorite flavors all year round.
With its handy list of resources and Southern pantry essentials, and entertaining stories,
Sara Foster's Southern Kitchen
is an all-inclusive collection of Southern cooking in which simple feasts meet artisanal ingredients, traditional tastes meet modern methods, and fantastic flavors make every bite a succulent mouthful of Southern comfort.
Title: An Invitation to Indian Cooking
Author: Madhur Jaffrey
Synopsis:
This seminal book, originally published in 1973, introduced the richly fascinating cuisine of India to America—and changed the face of American cooking. Now, as Indian food enjoys an upsurge of popularity in the United States, a whole new generation of readers and cooks will find all they need to know about Indian cooking in Madhur Jaffrey's wonderful book.
Jaffrey was prompted to become a cook by her nostalgia for the tastes of her Delhi childhood, but she learned to cook on her own, in a Western kitchen. So she is particularly skillful at conveying the techniques of Indian cooking, at describing the exact taste and texture of a dish. The many readers who have discovered her inspiring book over the years have found it deeply rewarding, with recipes for appetizers, soups, vegetables, meats, poultry, fish, chutneys, breads, desserts, even leftovers, all carefully worked out in American measurements and ingredients for American kitchens.
This landmark of cookery makes clear just how extraordinarily subtle, varied, and exciting Indian food can be, and how you can produce authentic dishes in your own kitchen. From formal recipes for parties to the leisurely projects of making dals, pickles, and relishes, this "invitation" to Indian cooking has proved completely irresistible.
In 2006, the James Beard Foundation ushered this book into its Cookbook Hall of Fame.
Title: Cooking in the Moment
Author: Andrea Reusing
Synopsis:
"If there's one thing Reusing understands, it's the power of a remarkable ingredient." – O Magazine
"[A] must-have title for both new and experienced cookes." --Publisher's Weekly (Starred Review)
"Her enthusiasm is infectious, her approach, inviting."—BookPage Top Pick and Cookbook of the Month
"I love Andrea Reusing's Lantern in Chapel Hill. And her recipes in Cooking in the Moment are so approachable and her stories so insightful that they blaze a path toward great home cooking."
—David Chang
"I've had the pleasure of enjoying many fine meals at Lantern. Andrea Reusing's food is always fresh, seasonal, and as local as possible. Her recipes are creative and downright delicious."
—John Grisham
For Andrea Reusing—an award-winning chef, a leader in the sustainable agriculture movement, and a working mother—"cooking in the moment" simply means focusing on one meal at a time. Tender spring broccoli given a smoky char on the grill, a summer berry pudding with cold cream, or a cider-braised pork shoulder served with pan-fried apples on a frosty night—cooking and eating this way allows food in season to become the foundation of a full life. Cooking in the Moment is a rich, absorbing journey through a year in Reusing's home kitchen as she cooks for family and friends using ingredients grown nearby.
When seasonality is reimagined as a grocery list rather than a limitation, everyday meals become cause for celebration—a whole week of fresh sweet corn; a blue moon autumn asparagus harvest; a rich, spicy soup made with the last few sweet potatoes of winter. Reusing seamlessly blends down-to-earth kitchen advice with delicious, doable recipes, including childhood favorites (chicken and dumplings), simple one-pot dinners (shrimp, pea, and rice stew), as well as feasts to satisfy a crowd (roast fresh ham with cracklings). And while the action takes place in North Carolina, the kinds of producers and places that animate these pages—farmers, ranchers, cheesemakers, butchers, bakers, orchards, backyard henhouses, and fishing holes—can be found all over, producing the flavors that we crave.
With gorgeous photography throughout and more than 130 recipes,
Cooking in the Moment
will inspire cooks everywhere to embrace the flavors and bounty of each season.
Title: Smokin' with Myron Mixon
Authors: Myron Mixon and Kelly Alexander
Synopsis:
The secret to the best barbecue from the man who barbecues the best: Keep it simple!
In the world of competitive barbecue, nobody's won more prize money, more trophies, or more adulation than Myron Mixon. And he comes by it honestly: From the time he was old enough to stoke a pit, Mixon learned the art of barbecue at his father's side. He grew up to expand his parent's sauce business, Jack's Old South, and in the process became the leader of the winningest team in competitive barbecue. It's Mixon's combination of killer instinct and killer recipes that has led him to three world championships and more than 180 grand championships and made him the breakout star of TLC's BBQ Pitmasters.
Now, for the first time, Mixon's stepping out from behind his rig to teach you how he does it. Rule number one: People always try to overthink barbecue and make it complicated. Don't do it! Mixon will show you how you can apply his "keep it simple" mantra in your own backyard. He'll take you to the front lines of barbecue and teach you how to turn out 'cue like a seasoned pro. You'll learn to cook like Mixon does when he's on the road competing and when he's at home, with great tips on
• the basics, from choosing the right wood to getting the best smoker or grill
• the formulas for the marinades, rubs, injections, and sauces you'll need
• the perfect ways to cook up hog, ribs, brisket, and chicken, including Mixon's famous Cupcake Chicken
Mixon shares more than 75 of his award-winning recipes—including one for the most sinful burger you'll ever eat—and advice that will end any anxiety over cooking times and temps and change your backyard barbecues forever. He also fills you in on how he rose to the top of the competitive barbecue universe and his secrets for succulent success. Complete with mouth-watering photos, Smokin' with Myron Mixon will fire you up for a tasty time.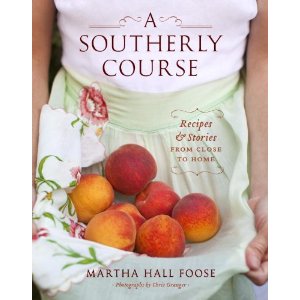 Title: A Southerly Course
Author: Martha Hall Foose
Synopsis:
In the highly anticipated follow-up to her bestselling
Screen Doors & Sweet Tea
, Martha Hall Foose shares recipes and stories that are even closer to her home and heart.
A Southerly Course delves deep into Mississippi Delta flavors and foodways, where Martha finds inspiration in local ingredients—from figs and sweet potatoes to crawfish and venison. In her signature style, she pairs each recipe with an anecdote or words of advice, her memorable tales about each dish lingering long after the last bite has been polished off.
Martha's beloved Southern cuisine is a fresh take on homey favorites fiercely protected by the locals, including Skillet Fried Corn, Sweet Pickle Braised Pork Shoulder, and Blackberry Jelly Roll. Dishes such as Sweet-and-Sour Salsify and Peanut Chicken, on the other hand, reflect the influence other cuisines have had on Southern cooking. Martha's lifelong bond with Mississippi is most apparent when she introduces her friends and family; she dedicates Burgundy Duck to a fiery group of women duck hunters called the Swamp Witches, while her cousin's new wife inspires Korean-style Grilled Green Onions. And in recalling her former neighbor, the famed author Eudora Welty, she reveals the secret to a perfect Custard Pie.
With more than 100 recipes and beautiful color photographs, this book is a wonderful, personal look into the South that Martha loves. Gather around her table in
A Southerly Course
for unforgettable food and vivid stories, both hallmarks in a rich Southern tradition.