Title: The Genius in All of Us
Author: David Shenk
Synopsis:
With irresistibly persuasive vigor, David Shenk debunks the long-standing notion of genetic "giftedness," and presents dazzling new scientific research showing how greatness is in the reach of every individual.
DNA does not make us who we are. "Forget everything you think you know about genes, talent, and intelligence," he writes. "In recent years, a mountain of scientific evidence has emerged suggesting a completely new paradigm: not talent scarcity, but latent talent abundance."
Integrating cutting-edge research from a wide swath of disciplines—cognitive science, genetics, biology, child development—Shenk offers a highly optimistic new view of human potential. The problem isn't our inadequate genetic assets, but our inability, so far, to tap into what we already have. IQ testing and widespread acceptance of "innate" abilities have created an unnecessarily pessimistic view of humanity—and fostered much misdirected public policy, especially in education.
The truth is much more exciting. Genes are not a "blueprint" that bless some with greatness and doom most of us to mediocrity or worse. Rather our individual destinies are a product of the complex interplay between genes and outside stimuli-a dynamic that we, as people and as parents, can influence.
This is a revolutionary and optimistic message. We are not prisoners of our DNA. We all have the potential for greatness.
Title: A Life of Being, Having, and Doing Enough
Author: Wayne Muller
Synopsis:
From the moment we are born, we are seekers. Our culture obsessively promotes the pursuit of money, success and self-improvement. At the end of each activity-jammed day, though, we collapse into bed discouraged by everything we have not checked off on our to-do lists, in despair that whatever we have accomplished is never enough. Worse still, when our dreams become derailed by the inherent tragedies of life—job loss, financial peril, sickness, or the death of a loved one—we feel devastated by the pain and injustice of it all.
Nationally renowned author, therapist, and minister Wayne Muller offers healing for the perpetually stressed in A Life of Being, Having, and Doing Enough. By learning compassion and mercy for ourselves and by recognizing what is most profoundly true about who we are and what we need, we can gain the self-acceptance so that whatever we choose to do, in this moment, it is wholly enough.
Muller mixes the writings of great spiritual and political leaders with inspirational anecdotes from his own life, inviting us to derive more satisfaction from less and pull gratitude out of the ashes of grief. The answer to what he describes as "authentic happiness" lies not in seeing the glass as half full instead of half empty. In reality, he writes, the glass is always half full and half empty. The world is neither broken nor whole, but eternally engaged in rhythms between joy and sorrow. With Muller's guidance, we may find ourselves on the most courageous spiritual pilgrimage of our lives.
Title: Breaking the Rules Won't Break Your Health
Authors: Susan M. Love, Alice D. Domar and Leigh Ann Hirschman
Synopsis:
Later to bed, munching some fries, makes a girl pretty healthy and wise. . . .
Yes, it's true—more or less. Why? Women do need to eat healthier, exercise, get adequate sleep, and take preventive health care seriously, yet it's equally important for them to relax. Relax, take a breather, and give up trying to follow the narrowly prescribed health "rules" that are constant sources of unhealthy stress and guilt.
In Live a Little!, women finally get a long-overdue dose of realism about what's truly healthy and what's mostly hype. Susan Love and Alice Domar take on the health police, whose edicts make us feel terrible when we don't get eight hours of sleep or eat the maximum daily serving of veggies. Most important, they remind us of a forgotten truth: Perfect health is not achievable.
Breaking down the prevailing health "musts" in six areas—sleep, stress, preventive care, exercise, nutrition, and personal relationships—these doctors, with a little help from the other experts of BeWell, cut to the heart of these topics and give us realistic guidelines for living a healthy enough life, one that also includes laughter, relaxation, and a commonsense attitude about being pretty healthy.
To learn more health truths and whittle down your overblown expectations of yourself, open this book. Using science combined with these experts' surprisingly refreshing opinions, Live a Little! shows you how to be healthy without driving yourself crazy!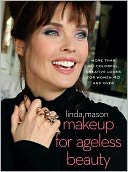 Title: Makeup for Ageless Beauty
Author: Linda Mason
Synopsis:
In
Makeup for Ageless Beauty
, internationally renowned makeup artist Linda Mason shares her creative techniques for using makeup to look and feel your best, at every age, every day, to suit every mood and occasion.
Linda begins with how to take care of and prepare skin for makeup, create a fresh and beautiful canvas for the rest of your look, and use color on eyes, cheeks, and lips. She then presents more than 40 original makeup looks in three categories—Subtle, Glamorous, and Creative—all illustrated with detailed sketches.
Featuring beautiful women from all walks of life, including such supermodels and celebrities as Anna Bayle, Brooke Shields, Carol Alt, Frederique van der Wal, Joan Jett, Kim Alexis, Paulina Porizkova, and Veronica Webb, Makeup for Ageless Beauty will show you how to makeup beautifully for the rest of your life.
"I've worked with Linda several times over the years, starting with a Vogue shoot when she first arrived in New York. I'm amazed at the variety of different looks she's created for me—they always let me shine through."