Title: Paletas
Author: Fany Gerson
Synpsis:
From the pure, radiant flavors of classic Blackberry and Spicy Pineapple to unexpectedly enchanting combinations such as Sour Cream, Cherry and Tequila, or Strawberry-Horchata, Paletas is an engaging and delicious guide to Mexico's traditional—and some not-so-traditional—frozen treats.
Collected and developed by celebrated pastry chef Fany Gerson, this sweet little cookbook showcases her favorite recipes for paletas, those flavor-packed ice pops made from an enormous variety of fruits, nuts, flowers, and even spices; plus shaved ice (raspados) and aguas frescas—the delightful Mexican drinks featuring whole fruit and exotic ingredients like tamarind and hibiscus flowers.
Whether you're drawn to a simple burst of fresh fruit—as in the Coconut, Watermelon, or Cantaloupe pops—or prefer adventurous flavors like Mezcal-Orange, Mexican Chocolate, Hibiscus-Raspberry, or Lime Pie, Paletas is an inviting, refreshing guide guaranteed to help you beat the heat.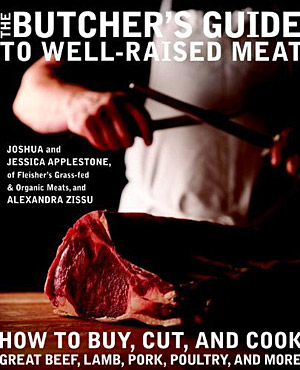 Title: The Butcher's Guide to Well-Raised Meat
Authors: Joshua Applestone, Jessica Applestone and Alexandra Zissu
Synpsis:
There is a food revolution sweeping the nation, changing the way Americans think and eat, and meat is at the heart of it. The butcher has reemerged in American culture as an essential guide in avoiding the evils of industrial meat—which not only tastes bad, but is also bad for one's health and for the environment. Joshua and Jessica Applestone, a former vegan and vegetarian, are trailblazers in this arena. They run Fleisher's, an old-school butcher shop with a modern-day mission—sourcing and selling only grass-fed and organic meat. The Applestones' return to the nearly lost tradition of the buying and nose-to-tail carving of whole animals—all humanely raised close to their shop in New York's Hudson Valley—has helped to make them rising stars in the food world.
The Butcher's Guide to Well-Raised Meat is a compendium of their firsthand knowledge. This unique book—a guide, memoir, manifesto, and reference in one—shares everything one needs to know about well-raised meat, including why pastured meats are so much better than conventional ones and how to perfectly butcher and cook them at home. Readers will learn which cut of steak to look for as an alternative to the popular hanger (of which each steer has only one), how to host a driveway pig roast, and even how to break down an entire lamb (or just butterfly the shoulder)—all with accompanying step-by-step photographs. Differences among breeds and ideal cooking methods for various cuts and offal are covered, and the Applestones' decoding of misleading industry terminology and practices will help consumers make smarter, healthier purchases that can also help change what's wrong with meat in America today.
Complete with color and black-and-white photographs, illustrations, and more than a dozen recipes, The Butcher's Guide to Well-Raised Meat is the definitive guide to eating great meat—responsibly.
Title: The Feast Nearby
Author: Robin Mather
Synpsis:
Within a single week in 2009, food journalist Robin Mather found herself on the threshold of a divorce and laid off from her job at the Chicago Tribune. Forced into a radical life change, she returned to her native rural Michigan.
There she learned to live on a limited budget while remaining true to her culinary principles of eating well and as locally as possible. In The Feast Nearby, Mather chronicles her year-long project: preparing and consuming three home-cooked, totally seasonal, and local meals a day--all on forty dollars a week.
With insight and humor, Mather explores the confusion and needful compromises in eating locally. She examines why local often trumps organic, and wonders why the USDA recommends white bread, powdered milk, and instant orange drinks as part of its "low-cost" food budget program.
Through local eating, Mather forges connections with the farmers, vendors, and growers who provide her with sustenance. She becomes more closely attuned to the nuances of each season, inhabiting her little corner of the world more fully, and building a life richer than she imagined it could be.
The Feast Nearby celebrates small pleasures: home-roasted coffee, a pantry stocked with home-canned green beans and homemade preserves, and the contented clucking of laying hens in the backyard. Mather also draws on her rich culinary knowledge to present nearly one hundred seasonal recipes that are inspiring, enticing, and economical--cooking goals that don't always overlap--such as Pickled Asparagus with Lemon, Tarragon, and Garlic; Cider-Braised Pork Loin with Apples and Onions; and Cardamom-Coffee Toffee Bars.
Mather's poignant, reflective narrative shares encouraging advice for aspiring locavores everywhere, and combines the virtues of kitchen thrift with the pleasures of cooking--and eating--well.
Title: Sweet & Skinny
Author: Marisa Churchill
Synpsis:
In
Sweet & Skinny
, professional pastry chef Marisa Churchill presents one hundred low-fat recipes (including more than twenty-five sugar-free variations) that show readers how to indulge in dessert while maintaining a healthy figure and lifestyle.
In her debut cookbook, Marisa will show you (as she has also done on Top Chef and Food Network Challenge) how to pick the best ingredients, create contrasting textures to entice the palate, boost flavor with fresh fruit, herbs, and spices, and substitute lower-fat/lower-calorie alternatives without skimping on flavor. From quick weeknight desserts that can be ready in fewer than thirty minutes to elegant desserts for dinner parties and holidays, Sweet & Skinny gives readers all the skills and recipes they need to satisfy their cravings.
Hosting a dinner party? Wow your guests with Individual S'More Tarts, Goat Cheesecake with Figs, or perhaps a Rosemary Angel Food Cake with Lemon Glaze. Charged with a holiday dessert? How about Pear and Chocolate Upside-Down Cake, Orange-Chile Chocolate Bark, or Baked Apples with Maple-Gingersnap Stuffing? Faced with a sudden craving? Rest assured—No-Bake Cheesecake Cups with Concord Grapes, Molten Chocolate Soufflé Cake, and Mocha Affogato Milkshakes can be whipped up in minutes.
Illustrated with vibrant finished and in-process food photographs throughout, Sweet & Skinny will help you make desserts that everyone will love, for any occasion.
For those who are trying to lose weight, have dietary restrictions, or are simply looking to cut or decrease sugar, Sweet & Skinny offers a path to eating healthier and baking simpler by lowering fat and cooking smart, with everything in moderation.
Title: Cooking for Gracie
Author: Keith Dixon
Synpsis:
A touching, insightful and uplifting memoir, complete with more than 40 recipes, that recounts a year in the life of a new parent learning to cook for three.
Keith Dixon's passion was cooking. For years, he sustained himself through difficult days by dreaming about the lavish recipes he was going to attempt when he got home—Thai curries, Indian raitas, Sichuan noodles. All that changed when his daughter, Gracie, was born five weeks early, at just four pounds. Keith and his wife, Jessica, adapted to life with a newborn as all parents do: walking around in a sleep deprived haze, trying to bond with Gracie and meet the needs of this new person in their lives—all while dealing with the overwhelming fear that they were going to catastrophically fail in their new roles. After Gracie became a part of their family, Keith no longer had time to cook the way he once knew; when he did find time to make something, he learned the hard way that his daughter woke easily to the simplest kitchen noise, and soon realized that if he wanted his family to eat well, he was going to have to learn to cook all over again.
Based on three popular articles in the New York Times, Cooking for Gracie is a memoir of the first year of Gracie's life, as Keith learns to cook for three—discovering what it means to be a father while still holding on to what made him who he was before his daughter came along. Keith and Jessica's hilarious and poignant struggles to adjust to life with a newborn will resonate with new parents; foodies' mouths will water over the tempting meals Keith creates; amateur cooks will laugh at his missteps in the kitchen—and it's just impossible not to fall in love with the adorable Gracie.
A critically acclaimed novelist, Keith Dixon reflects on food, parenting, and cooking with both humor and reverence, and shares the delicious, accessible parent- and family-friendly recipes he discovered along the way. Beautifully written and compulsively readable, Cooking for Gracie is an irresistible and unforgettable story, for foodies and parents alike, of a family of three learning to find their way together.