In this post I am going to gather all the books written by
Marian Keyes
. She is an author which books I like to read. She writes chick lit and she mixes dramedy with comedy.
These are the titles:
- Watermelon
- Rachel's Holiday
- Lucy Sullivan is Getting Married
- Last Chance Saloon
- Sushi For Beginners
- Angels
- Under the Duvet
- Further Under the Duvet
- Anybody Out There
Title: Watermelon
Synopsis:
At twenty-nine, fun-loving, good-natured Claire has everything she ever wanted: a husband she adores, a great apartment, a good job. Then, on the day she gives birth to her first baby, James visits her in the recovery room to inform her that he's leaving her. Claire is left with a beautiful newborn daughter, a broken heart, and a body that she can hardly bear to look at in the mirror. So, in the absence of any better offers, Claire decides to go home to her family in Dublin. To her gorgeous man-eating sister Helen, her soap-watching mother, her bewildered father. And there, sheltered by the love of an (albeit quirky) family, she gets better. A lot better. In fact, so much better that when James slithers back into her life, he's in for a bit of a surprise.
Title: Rachel's Holiday
Synopsis:
'How did it end up like this? Twenty-seven, unemployed, mistaken for a drug addict, in a treatment centre in the back arse of nowhere with an empty Valium bottle in my knickers . . .'
Meet Rachel Walsh. She has a pair of size 8 feet and such a fondness for recreational drugs that her family has forked out the cash for a spell in Cloisters – Dublin's answer to the Betty Ford Clinic. She's only agreed to her incarceration because she's heard that rehab is wall-to-wall jacuzzis, gymnasiums and rock stars going tepid turkey – and it's about time she had a holiday.
But what Rachel doesn't count on are the toe-curling embarrassments heaped on her by family and group therapy, the dearth of sex, drugs and rock'n'roll – and missing Luke, her ex. What kind of a new start in life is this?
Title: Lucy Sullivan is Getting Married
Synopsis:
What happens when a psychic tells Lucy that she'll be getting married within the year? Her roommates panic! What is going to happen to their blissful existence of eating take-out, drinking too much wine, bringing men home, and never vacuuming? Lucy reassures her friends that she's far too busy arguing with her mother and taking care of her irresponsible father to get married. And then there's the small matter of not even having a boyfriend. But then Lucy meets gorgeous, unreliable Gus. Could he be the future Mr. Lucy Sullivan? Or could it be handsome Chuck? Or Daniel, the world's biggest flirt? Or even cute Jed, the new guy at work? Maybe her friends have something to worry about after all....
Title: Last Chance Saloon
Synopsis:
Best friends since the days when legwarmers were cool, Tara, Katherine, and Fintan have survived small-town ennui, big-city heartbreak, and endless giddy nights out on the town. But now that they've graduated to their slightly more serious thirties, only Fintan has what can honestly be called a "love life." With Tara struggling daily with her eternal diet -- and her dreadful, penny-pinching boyfriend -- and Katherine keeping her single existence as ordered as her drawer full of matching bra and panty sets, it seems they'll never locate the exit door out of the "last chance saloon."But it's always when you are least ready for change that fate insists on one. And when catastrophe inevitably follows crisis, the lives of three best friends are sure to change in unexpected ways...and not necessarily for the worse.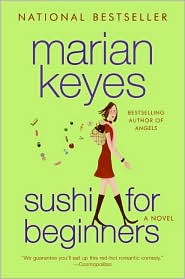 Title: Sushi For Beginners
Synopsis:
A nervous breakdown seems like a great idea: all that lying in bed and watching daytime TV. But who's going to have it? Will it be housewife Clodagh, who spends her days microwaving pasta for her demanding toddlers and waiting for her beautiful husband Dylan to come home? Or Lisa, hard, brittle and shiny as an M&M, reeling from the shock of a demotion from her fabulous job in London to a one-horse magazine in Dublin? Or Ashling, so normal she's weird?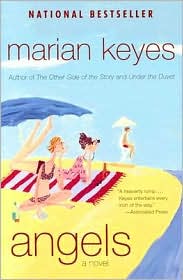 Title: Angels
Synopsis:
Maggie has always been the white sheep of the Walsh family.Unlike her comically dysfunctional sisters,Rachel(heroine of Rachel's Holiday) and Claire (heroine of Watermelon), she married a decent man who adored her and found herself a solid career. Where Rachel was reckless and Claire dramatic, Maggie settled early for safety. Or so she believed until she discovers that her husband is having an affair and her boss is going to fire her. Suddenly, her perfectly organized life has become a perfect mess.
Devastated, she decides the only thing to do is to run for the shelter of her best friend, Emily, who lives in Los Angeles. There, with the help of sunshine and long days at the beach, she will lick her wounds and decide where life will take her next.But from the moment she lands in the City of Angels, things are not quite what she expected. Overnight, she's mixing with movie stars,even pitching film scripts to studios.Most unexpectedly of all,she finds that just because her marriage is over,it doesn't mean her life is. In the end neither the City of Angels nor Maggie Walsh will ever be the same again.
Title: Under the Duvet
Synopsis:
A real treat - the incredibly funny jottings of a hugely bestselling and much-loved author Her books are read and adored by millions around the world - now read the collected journalism of the woman who writes them: the woman under the duvet. Marian loves shoes and her LTFs (Long Term Friends), hates estate agents and lost luggage, and she once had a Christmas office party that involved roasting two sheep on a spit, the Moroccan way. She's just like you and me...
Title: Further Under the Duvet
Synopsis:
Chapter One
Hello and welcome to Further Under the Duvet, the follow-up to Under The Duvet, my first volume of journalism. I say 'journalism' but the articles included here are mostly humorous autobiographical pieces about subjects like my great love of make-up and ill-health and my great fear of being trapped on a bus in a foreign country with forty Irish people (it's the singing .) There are also a few more serious pieces about feminism, mediums and charity trips I've made to Ethiopia and Russia.
This time around, some of my short stories are also included. In fact, all of them seem to be, all seven of them. The thing is that I find it really hard to write short stories (the clue is in the name: they're too short . I'm only really getting into my stride with the characters and the plot, when next thing, it's time to finish it. As a result I've written very few.)
Also included here is something called The Mammy Walsh Problem Page. Mammy Walsh is a character who has appeared in several of my novels as a supporting character (a mother, as it happens) and over time she has developed a life of her own. In response to readers' requests, she now dispenses no-nonsense advice from my website. I am slightly worried that by giving her a platform in this book, she'll lose the run of herself entirely; she's pretty strident at the best of times.
Some of the articles in this collection have already been published and the various publications are credited at the end of each piece. Thank you to all of them for permitting me to re-use the pieces.
Now, just before someone writes and asks, everything in the non-fiction pieces in this book really did happen to me, (yes, even turning forty) but occasionally I've changed people's names to protect them (and sometimes me.)
All my royalties from the Irish sales of the hardback will go to To Russia With Love, a wonderful charity that works with Russian ophans. And thank you very much for reading this book, I sincerely hope you enjoy it.
Title: The Other Side of the Story
Synopsis:
Jojo Harvey is a literary agent whose star is on the rise. In love with both her married boss and her burgeoning career, not much distracts her. Until she finds herself representing two women who used to be best friends. One of them, Gemma, has suddenly found herself from a broken home - at the age of thirty-two. Meanwhile, Lily - the woman Gemma has always blamed for stealing her one chance of happiness - is enjoying the overnight success of her debut novel. Set in the world of publishing, 'The Other Side of the Story' is about love, loyalty, glass ceilings and survival tactics - and what to do when you get your chance for revenge.
Title: Anybody Out There
Synopsis:
'I had to go back to New York and try to find him. There was a chance he mightn't be there but I had to give it a go because there was one thing I was certain of:
he wasn't here.'
Anna Walsh is officially a wreck. Physically broken and emotionally shattered, she lies on her parents' Dublin sofa with only one thing on her mind: getting back to New York. New York means her apartment, The Most Fabulous Job In The World™ and above all, it means her husband, Aidan.
But nothing in Anna's life is that simple …
Not only is her return to Manhattan complicated by her physical and emotional scars – but Aidan seems to have vanished.
Is it time for Anna to move on? Is it even possible to?
A motley group of misfits, an earth-shattering revelation, two births and one very weird wedding might help Anna find some answers – and change her life forever …
Hilarious, heartbreaking and life-affirming, Marian's unforgettable new novel is as epic as it is entertaining.
Title: This Charming Man
Synopsis:
'Everybody remembers where they were the day they heard that Paddy de Courcy was getting married' But for four women in particular, the big news about the charismatic politician is especially momentous … Stylist Lola has every reason to be interested in who Paddy's marrying – because although she's his girlfriend, she definitely isn't the bride-to-be. Heartbroken, she flees the city for a cottage by the sea. But will Lola's retreat prove as idyllic as she hopes? … Not if journalist Grace has anything to do with it. She wants the inside story on the de Courcy engagement and thinks Lola holds the key. Grace's sister, Marnie, might be able to help but she's too busy holding her perfect life – perfect husband, perfect children, perfect house – together. And what of the soon to be Mrs de Courcy … Alicia will has waited a long time for this and is determined to be the perfect politician's wife. But does she know the real Paddy de Courcy? Four very different women. One awfully charming man. And the dark secret that binds them all…
Title: The Brightest Star in the Sky
Synopsis:
Welcome to 66 Star Street...
In the top floor flat lives music exec Katie. She spends her days fighting off has-been rock stars and wondering how much cheesecake you'd need to eat yourself to death.
Below her, a pair of muscular Poles share with a streetwise cabbie named Lydia who has a sharp tongue, an even sharper brain but some unexpected soft spots.
On the first floor is Fionn – the gardener who prefers the company of parsnips to people. But he looks like a fairy-tale prince and when he's offered his own television show, he's suddenly thrust into the limelight.
And at the bottom of the house live Matt and Maeve, who are Very Much In Love and who stave off despair by doing random acts of kindness.
But a mysterious visitor has just landed at 66 Star Street and big changes are on the way. Old secrets are working their way to the surface, bringing love, tragedy and an unexpected optimism. And life will be different for everyone...